STABILITAS DAN DEFORMASI PADA TANAH LEMPUNG LUNAK DI BENDUNGAN TERITIP
Sari
Dams on soft soils differ greatly in behavior when compared to rock foundations. Potential dam failures can occur due to differential settlement. The total reduction in Barnacle dam without PVD takes 17 years. Analysis of the use of PVD shows an increase in shear strength due to dissipation of pore stresses marked by an increase in safety figures. The time needed to achieve consolidation of at least 80% is 180 days based on finite element simulations. The total reduction in the body of the dam is 1.37 meters.
Referensi
Das, B. M. (2010). Principle of Geotechnical Engieering (7th ed.). Connecticut: Cengage Learning.
Fell, R., MacGregor, P., Stapledon, D., Bell, G., & Foster, M. (2015). Geotechnical Engineering of Dams (2nd ed.). London: Taylor & Francis.
Hartlen, J., & Wolski, W. (1996). Embankment on Organic Soil. Amsterdam: Elsevier Science B. V.
Kempfert, H.-G., & Gebreselassie, B. (2006). Excavations and Foundations in Soft Soils. Berlin: Springer.
Look, B. G. (2007). Handbook of Geotechnical Investigation and DesignTables. London: Taylor & Francis.
Nagaraj, T. ., & Miura, N. (2001). Soft Clay Behaviour (Analysis and Assessment). Rotterdam: A.A Balkema.
PT Indra Karya. (2013). Laporan Akhir Persetujuan Desain Sertifikasi Bendungan Teritip. Balikpapan.
Schmertmann, J. H. (1978). Guidelines for Cone Penetration Test : Performance and Design. Washington DC.
US Army Corps of Engineer. (2003). Slope Stability EM 1110-2-1902. Washington DC.
DOI:
https://doi.org/10.31869/rtj.v5i2.1688
Article Metrics
Sari view : 304 times
PDF - 148 times
Refbacks
Saat ini tidak ada refbacks.
##submission.copyrightStatement##

 Kunjungan Saat ini
Kunjungan Dari Negara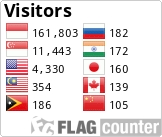 Rang Teknik Journal is licensed under a Creative Commons Attribution-NonCommercial 4.0 International License.